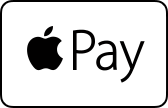 Get started in a snap
Add
Use the Wallet app on your device to add your BSI Mastercard to Apple Pay. Just tap the plus sign and follow the onscreen instructions.
If prompted to verify your card by phone, call 1-844-646-5465. Be prepared to provide the following information: card number, bank name, cardholder name, last 4 digits of social security number, address, and the most recent transaction (date, amount and merchant).
Make secure payments
Apple Pay transactions never use your card number so your information and identity is never shared with the merchant.
Only you can authorize purchases with your fingerprint.
If your device is lost or stolen, it's easy to quickly lock or wipe your device using Apple's Find My iPhone.
Frequently asked questions
Which devices are compatible with Apple Pay?

Apple Pay will work with iPhone 6 or later. Within mobile applications, Apple Pay is compatible with iPhone 6, iPad Air 2, and iPad Mini 3.

Do I need to have a password lock on my iPhone in order to use Apple Pay?

Yes, Apple Pay requires you to have a password lock on your phone in order to use your digital wallet.

Do I need to be connected to the internet?

You do not need an internet connection for in-store contactless payments.

Will my ATM card work for Apple Pay?

No, ATMs and ATM cards are not compatible with the Apple Pay service.

Are merchants that use iPads for payment processing automatically set up for Apple Pay?

No, the Apple Pay service is something the merchant will have to set up.

Can I remove the card once it's stored on my device?

It's easy to delete the card from your device. Simply choose the card you want to remove and tap the information icon in the bottom right corner of the screen. At the bottom of the next screen, tap "Remove Card."

Am I liable for fradulent transactions?

No. Whether you use Apple Pay or a physical Mastercard, you are covered with MasterCard's Zero Liability Protection. That means we will notify you immediately if fraud is suspected on your card and that you will not be held responsible for any unauthorized transactions.

What if my device is lost or stolen?

You can remove your credit or debit cards from Apple Pay on iCloud.com. Just sign in, click Settings, choose your device, and remove your cards in the Apple Pay section.

If Find My iPhone is turned on, you can also help keep your data secure in these ways:

Turn on Lost Mode to lock your device and suspend Apple Pay.
Erase your device remotely to prevent anyone else from accessing the data on your missing device and to remove your cards.

What should I do when I receive a new physical card?

If you have a new card, simply go through the initial set up required to add a new card to Apple Pay.

My physical debit card looks different than the one in my Apple Pay digital wallet. Is it still the same card?

Yes. If you have a Packard debit card, a business debit card or an HSA debit card, your digital card will look different but it will still work the same as your physical card with the same benefits.

How will Apple Pay transactions appear on my statements?

Apple Pay transactions will show up as mobile purchase types with the merchant listed.